DESTENI MASON NAMED ONE OF 75 "ELITE WOMEN IN MORTGAGE" IN THE NATION BY MORTGAGE PROFESSIONAL AMERICA MAGAZINE
(July 27, 2017, GREENVILLE, OHIO) Mortgage Professional America Magazine has named Desteni Mason, co-owner of KTL Performance Mortgage Greenville, Ohio, one of the nation's ELITE WOMEN IN MORTGAGE 2017. This is Mason's second award from the publication.
Mortgage Professional America (MPA) is the mortgage & finance industry's most trusted source of news, opinion and analysis. The recently published issue reads, "In an industry where the leadership roles are still dominated by men, the honorees in MPA's 2017 Elite Women issue are working to change the status quo."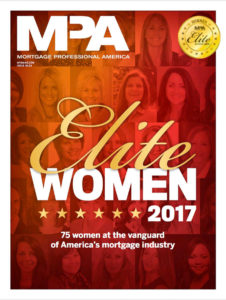 They go on to state, "After receiving numerous nominations from readers around the nation, MPA culled this list to 75 women who have overcome obstacles and broken barriers to become some of the industry's top professionals.
The 75 women on this year's list are record-breakers and innovators, founders and owners, top executives and trendsetters. And they're using their influence to change the face of the mortgage industry."
Since co-founding KTL Performance Mortgage in 2003, Desteni Mason and her "Mason Knows Mortgages" team have grown their company into one of the top USDA lenders in the states of Indiana and Ohio. Mason and her team closed over 200 loans independently in 2016.
Desteni's success is largely due to her dedication to helping others learn and succeed. She came from humble beginnings and knows what it takes to turn knowledge into life strengths and successes. She has gained great respect for her commitment to helping underserved clients or those with limited financial knowledge learn how to improve their situations. Through her guidance, homeownership has become a reality rather than a dream.
With this consumer knowledge gap in mind, Desteni has begun a series of creative marketing initiatives to help educate potential clients, while further bolstering her company's brand and visibility in new markets. In the coming year, she will lead KTL's growth campaigns in Indiana, Kentucky, and Florida through a strategic social media campaign challenging new homebuyers to "Live their Destiny."
About Desteni Mason:
Desteni Mason helps people in Ohio, Indiana, Kentucky and Florida achieve their unique dreams of home ownership. We find the right mortgage solution for each person's life situation and serve as a guide and partner throughout the process of achieving their dream.
Our process is simple. Our team is dedicated. We are passionate about helping you achieve your dreams.
Desteni Mason is an Owner and Loan Officer for KTL Performance Mortgage. Performance Mortgage is an Equal Housing Lender.
Company NMLS#114045
Individual NMLS#130145
LO # 020305.000
MB # 803171
###