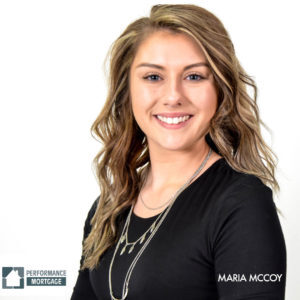 FOR IMMEDIATE RELEASE
MARIA MCCOY RECEIVES LICENSURE TO BECOME MORTGAGE LOAN ORIGINATOR
Greenville, OH (October 9, 2018) – Performance Mortgage in Greenville, Ohio is happy to announce that Maria McCoy has recently become their most recent licensed Mortgage Loan Originator. Maria will be serving the team's clients throughout Ohio and Indiana, and will continue to offer ongoing support for our other Loan Officers and Originators.
Maria brings a fresh perspective to the Performance Mortgage Team. She is passionate about helping first time homebuyers realize their dream of homeownership by listening to their needs and future desires, and pairing them with the best loan program to fit their lifestyle.
Since each goal requires a unique program, Maria and the team have the capacity to offer a wide variety of loan programs, including fixed rate Conventional, FHA, VA and USDA loans as well as renovation loan programs.
:
Performance Mortgage helps people in Ohio, Indiana, Kentucky and Florida achieve their unique dreams of home ownership. We find the right mortgage solution for each person's life situation and serve as a guide and partner throughout the process of achieving their dream.
Our process is simple. Our team is dedicated. We are passionate about making dreams come true.
Maria McCoy is a licensed Mortgage Loan Originator for KTL Performance Mortgage. Performance Mortgage is an Equal Housing Lender.
To learn more about Performance Mortgage, visit www.PerformanceMortgageOne.com or their Facebook page at http://www.facebook.com/performancemortgage. Reach out to Performance Mortgage today at 937-548-8222 to see how they can help you.
NMLS#1675020
LO #058415.000
Co. NMLS#114045
MB#803171