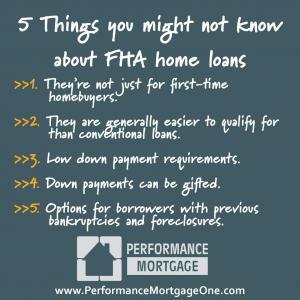 FHA Home Loans are mortgages that are issued by federally qualified lenders. The U.S. Federal Housing Authority, a division of the U.S. Department of Housing and Urban Development (HUD), insures FHA loans. FHA loans have been helping people become homeowners since 1934.
Here are 5 things that you might not know about FHA home loans:
1. They're not just for first-time homebuyers.
While FHA home loans are a top choice for many first-time homebuyers, they are not limited to only first-time homebuyers.
2. They are generally easier to qualify for than conventional loans.
Generally speaking, FHA home loans have more lenient requirements than conventional loans. Many buyers who are unable to qualify for a conventional loan are able to easily qualify for an FHA loan.
3. Low down payment requirements.
Most borrowers are able to qualify for FHA home loans with as little as 3.5% down. Borrowers with credit scores under 580 will need a 10% down payment.
4. Down payments can be gifted.
FHA home loans allow borrowers to pay their down payment with funds that have been provided as a gift from a relative or approved organization. If you are planning on using gifted funds for your down payment, it's important that you let your mortgage lender know early in the process. Gifted funds need to be provided in a specific manner, and the use of gifted funds may affect approvals for borrowers with lower credit scores.
5. Options for borrowers with previous bankruptcies and foreclosures.
Borrowers with recent bankruptcies and/or foreclosures may be able to to qualify for FHA loans sooner than other programs.  FHA loans will allow borrowers to obtain a mortgage as soon as 2 years after a bankruptcy and 3 years after a foreclosure. FHA loans have exceptions to these time limits if a borrower can document an extenuating circumstance that led to the bankruptcy or the foreclosure, such as the serious injury or death of a wage earner.
We highly recommend FHA home loans! It is an excellent program that offers a great deal of flexibility over other loan programs. Contact us today to learn more and to find out if you qualify: our pre-approval process is quick and painless! Call 937-548-8222 or click here to apply online.